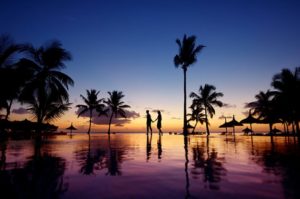 For more than 45 years, AHRIM has been the main professional association of private operators in the hospitality industry in Mauritius. We stand up and speak on behalf of a sector that makes 8.1% of Mauritius employment and 8.6% of its GDP.
A non-profit making organisation, AHRIM's main goal is to promote a strong and viable tourism and hospitality industry through a better business and social environment in line with the Sustainable Development Goals. This also means upholding the destination's integrity in its selling proposition.
As an organisation respectful of the proper execution of its mandate in a changing environment, it has undertaken so far three major restructuring exercises in 1996, 2005 and 2016.
Our Members
We bring together and represent a diversity of operators that constitute Mauritius hospitality : leading global hotel brands, hotel groups and owners, independent tourist residences and guest houses, restaurants, IRS estates and Affiliate / Associate member associations of tour operators, airport management, scuba diving, chefs, and professional training.
Our Council
The AHRIM Executive Council comprises of 20 members elected and co-opted at the Annual General Meeting. Among the elected members, two seats are devoted to representatives of Small and Medium Hospitality members, and one each to the Restaurants Commission, the Association of Inbound Operators Mauritius (AIOM) and the IRS Commission.
Our President

Désiré Elliah, Chartered Accountant and Fellow of the Association of Chartered Certified Accountants, is the Chief Executive Officer of Lux Island Resorts Ltd (LIR) since 1 January 2019.
He joined LIR in 2003 as Chief Financial Officer and was subsequently nominated on the LIR Board in October 2004. During his tenure with LIR, Désiré Elliah has acquired some solid experience and expertise in the various fields of specialisation of tourism and hospitality. His latest project is the successful opening of Lux* Grand Baie in 2021.
Désiré is an active member of the AHRIM Finance Commission; he has also been the Vice-President of the association during the past three years.
Désiré actually started his professional career in 1984, with De Chazal Du Mée, a Chartered Accountants firm. He worked for this same organisation until 2003 when he joined LIR. During his time with De Chazal Du Mée, he was nominated Partner in 1998 and within the Audit and Business Advisory service line, he was responsible for a portfolio of high-profile clients operating in the main sectors of the local economy. In addition, he regularly acted as the Financial Advisor on a significant number of World Bank projects in mainland Africa and the Indian Ocean region.
Married and father of one, Désiré Elliah is a great British soccer fan, likes worldwide travel, and has always been engaged in social work.
EXECUTIVE COUNCIL 2022-2023
Post

Name

Title

Establishment
President

Mr Désiré Elliah

Chief Executive Officer

LUX Island Resorts Limited

Vice President

Mr Thierry Montocchio

Chief Executive Officer

Rogers Hospitality

Secretary

Mr Nicolas Staub

Group Head of Sales

Beachcomber Resorts & Hotels

Treasurer

Mr Tommy Wong

Chief Finance Officer

SUN Limited

Vice Treasurer

Mr Fabio Meo

Chief Operating Officer

Southern Cross Hotels

Hotel Member Representatives
 

Ms Karine Curé

Chief Brand & Communication Officer

Beachcomber Resorts & Hotels

Mr Jacques Brune

General Manager

Hilton Mauritius Resort & Spa

Mr François Eynaud

Chief Executive Officer

SUN Limited

Mr Daniel Guimaraes

VP Operation Indian Ocean

Club Med (Mauritius)

Mr Sebastien Mackay

General Manager (Sports & Hospitality)

Medine Group – Hospitality segment

Mr Jean Michel Pitot

Chief Executive Officer

Attitude Hospitality Management Limited

Mr Rolph Schmid

Managing Director

Ninety-Six Hotel Collection

Mr Jean Jacques Vallet

Chief Executive Officer

Constance Hospitality Management

SMH Representatives

Mr Clifford Ng

Director

Ocean Hospitality Mauritius

Mr Guillaume Hugnin

Director

Bakwa Lodge

Restaurant Representative

Mr Oscar Olsen

Director

Flying Dodo Brewing Company

IRS Representative

Mr Patrice Legris

Chief Executive Officer

Alteo Properties Limited

Associate Representative

Mrs Geneviève Dardanne

President, AIOM

AIOM
OUR PARTNERS AND ASSOCIATES