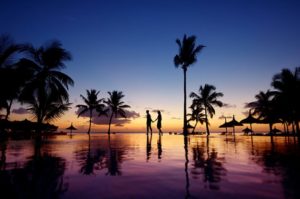 For more than 45 years, AHRIM has been the main professional association of private operators in the hospitality industry in Mauritius. We stand up and speak on behalf of a sector that makes 8.1% of Mauritius employment and 8.6% of its GDP.
A non-profit making organisation, AHRIM's main goal is to promote a strong and viable tourism and hospitality industry through a better business and social environment in line with the Sustainable Development Goals. This also means upholding the destination's integrity in its selling proposition.
As an organisation respectful of the proper execution of its mandate in a changing environment, it has undertaken so far three major restructuring exercises in 1996, 2005 and 2016.
Our Members
We bring together and represent a diversity of operators that constitute Mauritius hospitality : leading global hotel brands, hotel groups and owners, independent tourist residences and guest houses, restaurants, IRS estates and Affiliate / Associate member associations of tour operators, airport management, scuba diving, chefs, and professional training.
Our Council
The AHRIM Executive Council comprises of 20 members elected and co-opted at the Annual General Meeting. Among the elected members, two seats are devoted to representatives of Small and Medium Hospitality members, and one each to the Restaurants Commission, the Association of Inbound Operators Mauritius (AIOM) and the IRS Commission.
Chief Executive Officer

Jean Michel Pitot is the Chief Executive Officer of Attitude, a hotel management company he created in 2008. Today, Attitude manages an inventory of 9 hotels with a total of 1178 rooms in Mauritius. Zilwa Attitude and Paradise Cove are among the hotels under his responsibility. All Attitude hotels have earned the Travelife Gold label, acquired under the group's CSR and sustainable development programme, Green Attitude.
Having graduated in 1985 with a Marketing Degree from the Louisiana State University, in Baton Rouge, USA, Jean Michel Pitot quickly entered the workplace by joining the IBL (Informatics) group the following year. After a short stop at Andersen Consulting, he joined the hotel industry in 2000 as General Manager of Veranda Bungalow Village.
From the start, he built up the brand by adding establishments such as Coin de Mire, Paul et Virginie, Palmar, Marina, Heritage and Pointe aux Biches and, between two acquisitions, opened a Veranda office in Paris. In 2008, Jean Michel Pitot left Veranda to successfully launch his own brand. Having already been president of AHRIM between 2006 and 2008, he finds himself resuming the position over 10 years later, with now a third consecutive nomination since 2018.
Aged 58, married and father of three children, Jean Michel Pitot enjoys tennis, sailing and golf.
EXECUTIVE COUNCIL 2020-2021
Post

Name

Title

Hotel

President

Mr Jean Michel Pitot

Chief Executive Officer

Attitude Hospitality Management Ltd.

Vice President

Mr Désiré Elliah

Chief Executive Officer

Lux* Resorts & Hotels

Secretary

Mr François Venin

Chief Sales & Marketing Officer

Beachcomber Resorts & Hotels

Treasurer

Mr Tommy Wong

Chief Finance Officer

Sun Limited

Vice Treasurer

Mr Jean Marc Lagesse

Director

Lakaz Chamarel Exclusive Lodge

Members Representative

Mr Jacques Brune

General Manager

Hilton Mauritius Resort & Spa

Mr François Eynaud

Chief Executive Officer

Sun Limited

Mrs Geraldine Koenig

Brand & Quality Assurance Manager

Beachcomber Resorts & Hotels

Mr Ludovic Lagesse

COO -Group Trimetys

Be Cozy Appart.

Mr Bruno Lebreux

Administrator

Tamarina Beach Club

Mr Fabio Meo

Chief Operating Officer

Southern Cross Hotels

Mr Thierry Montocchio

Chief Executive Officer

Heritage & Veranda Resorts

Mr Andreas Oberoi

General Manager

Le Meridien Hotel

Mr Raj Rajcoomar

HR Manager/ Director of Administration

Maritim Resort & Spa Mauritius

Mr Rolph Schmid

Managing Director

Indigo Hotels

Mr Jean Jacques Vallet

Chief Executive Officer

Constance Hotels, Resorts & Golf

SMH Representatives

Mr Jean Marc Lagesse

Director

Lakaz Chamarel Exclusive Lodge

Mr Clifford Ng

Director

Ocean Hospitality Mauritius

Restaurants Rep

Mrs Jacqueline Dalais

Director

La Clef des Champs

IRS Representative

Mr Anton de Waal

General Manager

Heritage Villas Valriche

Associate Rep

Mrs Aurelie Pitot

President

AIOM
OUR PARTNERS AND ASSOCIATES